Miami Times Staff Report Oct 4, 2022 Updated Oct 5, 2022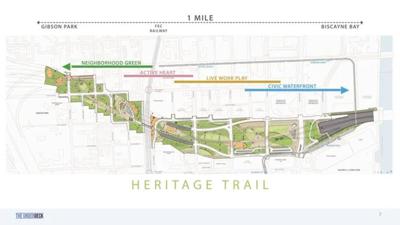 Planners have entered the homestretch in naming the 33-acre public space that will sit beneath the reconstructed I-395 from Overtown to Biscayne Boulevard – known, for now, as the Underdeck.
The Underdeck committee released a final survey this week that was the culmination of months of public feedback through community meetings and questionnaires. The survey allows residents to rate six names, each paired with a potential logo design.
The names subject to consideration are "The Stride Greenway … from Overtown to the Bay," "Downtown Overtown Connection," "Towners Greenway," "Miami Overtown Downtown Mile," "The HEART … from Overtown to the Bay" and "Overtown Miami Way."
The survey is available until Oct. 9 on UnderdeckMiami.com. Afterward, the top three-rated names will be submitted to the city of Miami, along with the rest of the committee's recommendations for final approval.
Naming the Underdeck has proven to be a point of contention among residents, particularly those of Overtown, whose neighborhood was torn apart decades ago by the arrival of the very highway currently undergoing reconstruction.
As such, the six proffered name options are mostly variations narrowed down from more robust lists presented to residents throughout the year. After several community meetings and questionnaires – including one by the newly hired design agency Jacober Creative – all have concluded that any name fit to represent the public space must include a direct reference to Overtown.
In the same spirit, the Underdeck committee has recently formulated a new working group to further benefit those currently living and working in the affected areas. The Economic Development Interest Group will meet again next week to ensure local input from small and mid-sized business owners.
The meeting will take place Oct. 11 at the Center for Black Innovation, located at 937 NW 3rd Ave. Doors open at 6 p.m.
Residents can now choose between six potential names for the Underdeck.