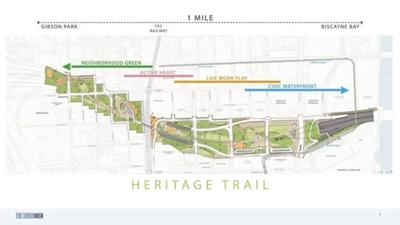 I am proud to say that I was born in Overtown. Though my journey through life may have led to places beyond that vibrant community, Overtown is and will always be part of who I am.
As a product of Overtown, I was gifted with roots of resilience and blessed with branches of community relationships that have kept me connected to the people and places that make this my forever home. I remain a member of the historic St. John's Baptist Church, serving as an associate minister and having served as the chair of the St. John Community Development Corporation for 22 years.
The spirit of Overtown has shaped my sense of community, and the lifelong relationships that originated there have transcended time and inspired me and many to value the importance of connections.
There is an almost philosophical irony that the history of Overtown's disconnection provides the most valuable lessons as to why keeping communities connected is a logistical imperative, economic driver and cultural benefit.
A new connective green space currently referred to as The Underdeck is in its planning phase. As a collaborative municipal project integrating both the city of Miami and the Florida Department of Transportation, this 33-acre multipurpose green space will be developed as part of the reconstruction of I-395 as a 1-mile linear landscape connecting Overtown in the west to Biscayne Bay in the east.
For many Overtown residents, the prospect of highway reconstruction adjacent to their community conjures up a dark history of urban removal disguised as urban renewal. The memories of the initial I-95/I-395 construction of the 1960s is not far removed from area residents of the time – and the subsequent generations who continue to be negatively impacted by that project. With that history, skepticism of this new project is expected and for most, warranted.
This is exactly why I got involved.
As The Underdeck project took shape, there was a concerted effort to ensure that community voices would be heard – and that community engagement in its planning would be encouraged and facilitated. The Underdeck Committee was formed through an MOU with the Miami City Commission to empower a group of community advocates and activists to facilitate public advocacy for project funding, and to activate community stakeholder engagement.
As the chair of the Stakeholder Engagement Working Group, my passion for the Overtown community has fueled my purpose in this role: to be a conduit of public interaction in the project planning, and an enabler of project activism to ensure the voices of Overtown and beyond are heard, considered and valued. We need this project to reconnect our city, and we need our city to connect with this project.
Through a vibrant, well-programmed and well-maintained public greenway that connects Overtown to the bay, we invite opportunities to interact and engage as a cohesive community of diverse cultures. Through this unifying linear public space actively supported throughout its planning by residents, business owners and community leaders, we send a message to each other and visitors alike: This is our project.
By taking ownership of this project through active civic engagement, we liberate ourselves from lamenting helplessly over the sins of past community devastation by empowering the city and FDOT to rectify a history of intentional disconnection with purposeful reconnection.
Along with engaging with the committee through attending community meetings and joining committee working groups that address future governance, management and funding, we must actively support the city of Miami and FDOT in their securing of additional federal funding for The Underdeck.
The Reconnecting Communities Program was announced in June of this year by Secretary of Transportation Pete Buttigieg. This program is the first of its kind that dedicates federal funds to projects that reconnect communities previously cut off from economic opportunities by transportation infrastructure. For The Underdeck project, that would mean a $26.5 million federal contribution to the 53 million required, as per the consensus budget.
The availability of these federal funds specifically for a Miami-based project so befitting the eligibility criteria of the Reconnecting Communities Program goes beyond coincidence. In some ways, this program represents an opportunity to repair, reclaim and restore what Overtown lost during the 1960s.
The Rev. Dr. Martin Luther King Jr. once stated that the "time is always right to do what is right." This is the right time to do the right thing for the city of Miami. Get involved with the committee and engage with elected officials and community leaders regarding the project. It's my time, your time and our time to be part of a process that leads to progress.
Nelson L. Adams, M.D., is the chair of The Underdeck Stakeholder Working Group. To get involved with The Underdeck Committee and advocate for the project, visit UnderdeckMiami.com.